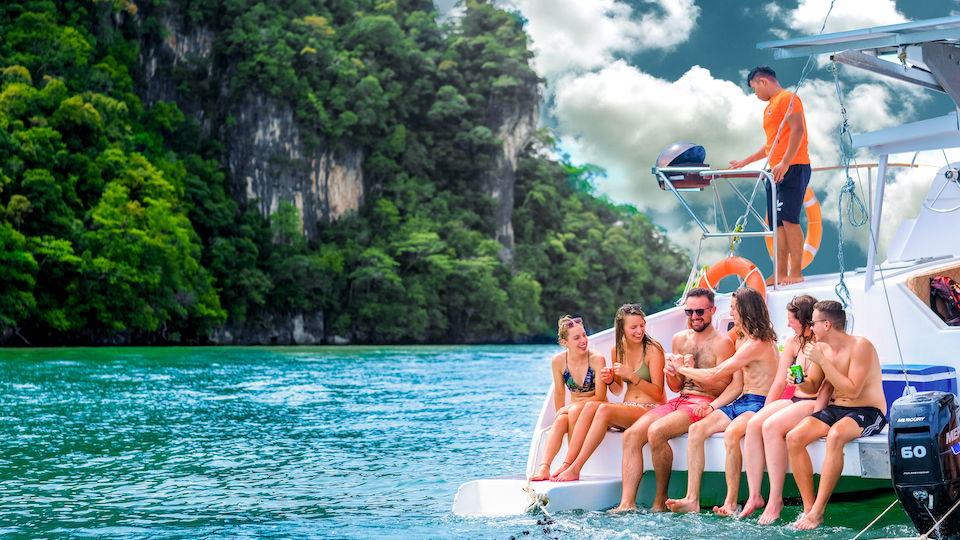 Sail with the Best Charter Company
Malaysia is home to some of the best islands in the world, and no island is as beautiful as Langkawi. With its pristine beaches and clear blue water, Langkawi is the perfect balance of the comforts of civilisation and wonders of untouched nature.
There is much to do on Langkawi island as there is around the island, and the best way to reach these wondrous destinations is by yacht. Let the winner of the Asia and Australasia Awards 2017 for Best Charter Company of the Year cater to your every Langkawi Private Cruise needs.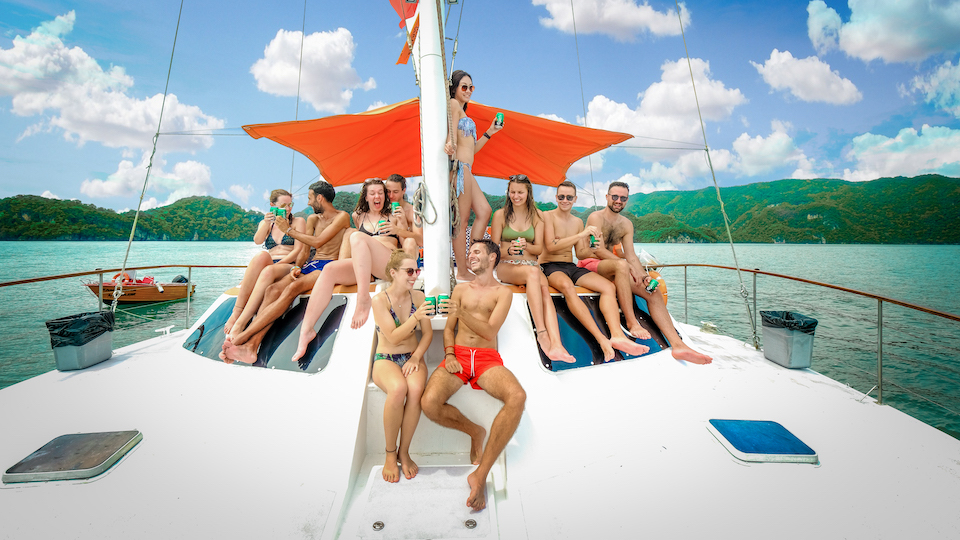 A luxury yacht and crew await your every command, be it fairy lights reflecting in the water for your wedding reception, or the latest music for your birthday party at sea, or a business retreat in a heaven-on-earth setting. Perhaps you'd simply like a small get-together of friends & family, or for just you and that special someone?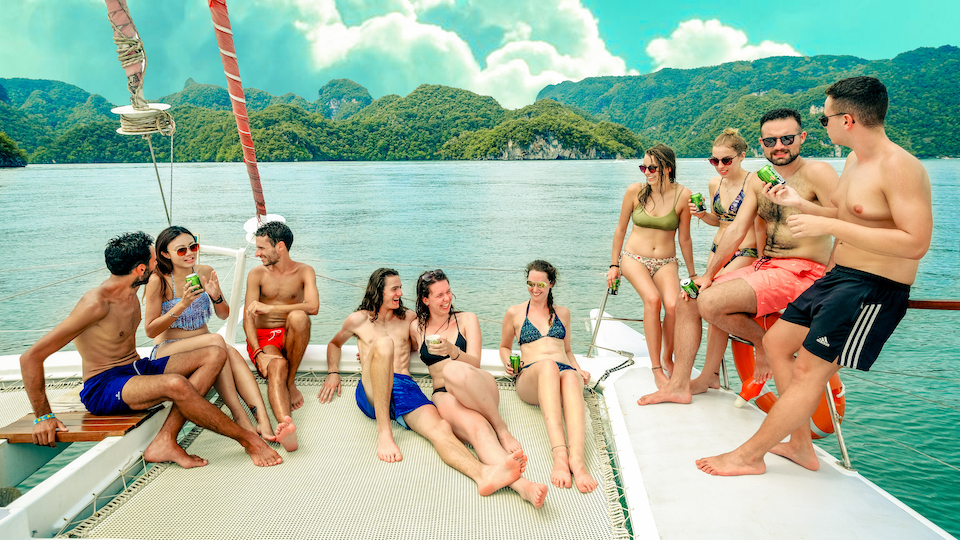 Personalised Langkawi Private Cruise
Whatever you can dream, Tropical Charters can deliver. Our Certificate of Excellence from TripAdvisor and Langkawi International Tourism Awards speak for us, as does our service. Our crews are seasoned, with more than 12 years of seafaring experience around the Straits of Malacca and the Andaman Sea. In fact, we are the first company licensed by the Maritime Department of Malaysia to operate these cruises. You can trust our experience.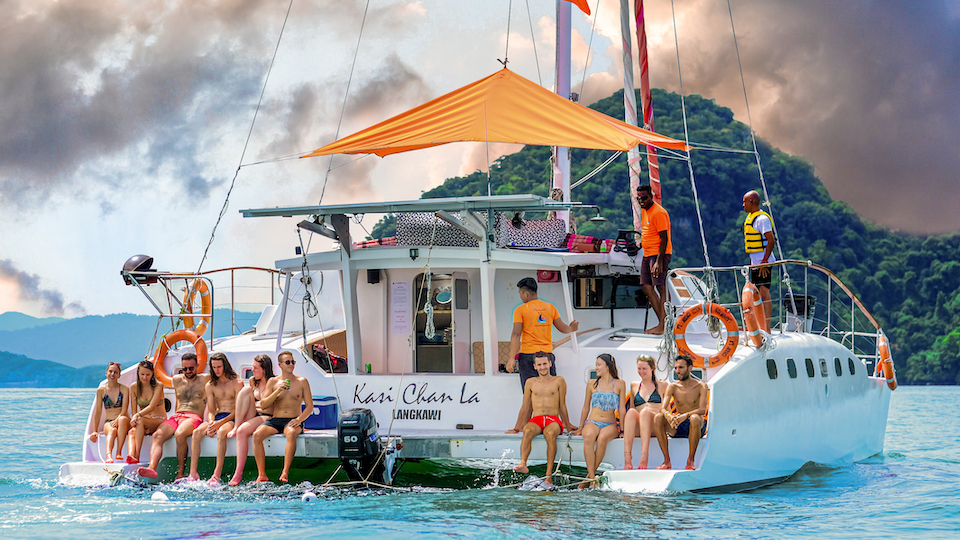 Your Langkawi Private Cruise consists of your own personal area on the beach, with canopies, sound system, and glorious food, barbecued by our chefs in front of you. There is also an overnight option aboard the yacht in luxurious rooms. The yachts are equipped fishing rods, trampolines, dinghies and other entertainment to satisfy everyone. Your only job on your Langkawi Private Cruise? Show up, eat, drink, and be merry!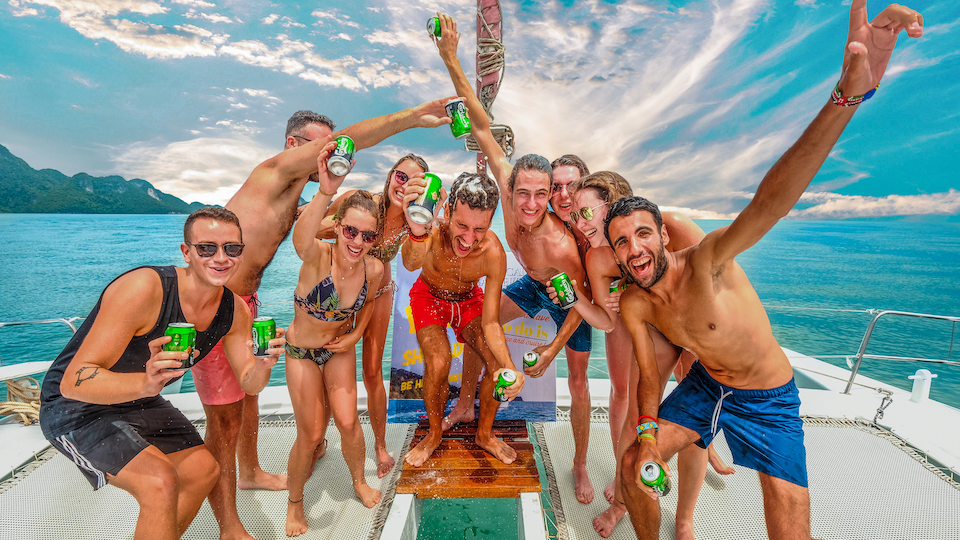 SEASATION: Your Party Yacht
For an out-at-sea party that's sure to be the talk of the town, the Seasation is the yacht for your Langkawi Private Cruise. Dressed in bright orange colours, this spacious 55 foot twin deck catamaran can accommodate up to 65 guests.
The Seasation is so popular around Langkawi that she has been affectionately named 'Bot Rakyat' (The People's Boat) for her ability to bring people together and show them a good time.
Our nimble mixologists on board will ensure a free flow of cocktails and mocktails for everyone's pleasure. Paired with pipping hot BBQ food prepared on deck by our chefs, your guests will want nothing else.
A Langkawi Private Cruise party is never a quiet one, so expect our DJ to turn up the music. The Seasation can also accommodate a 3-piece live band if you want to get really groovy. And when you get tired of dancing? The Seasation has a Jacuzzi Net, which allows you to sit by the stern as you enjoy a back rub courtesy of the Andaman Sea.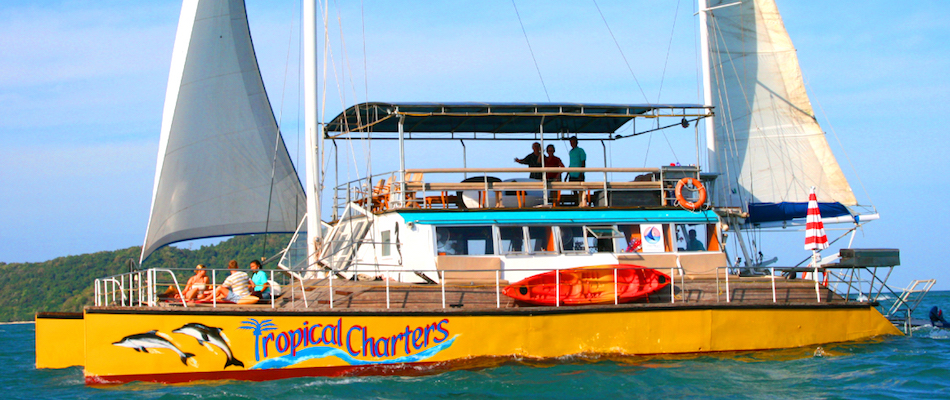 KASI CHAN LA: Your Business to Casual Yacht
We are proud to present our very own solar-powered yacht, fully done up by our in-house engineering team here in Langkawi. We call it the "sun-loving cat". This elegant 42 foot catamaran is what business-casual would look like if boats had a dress code.
Whether it's a business or family retreat, Kasi Chan La can accommodate up 12 guests per outing. Fitted with style and comfort, you are sure to enjoy a leisurely cruise with her accompanied by fine wine and food.
To prolong your Langkawi Private Cruise, guests may stay overnight in any of the 4 air-conditioned cabins.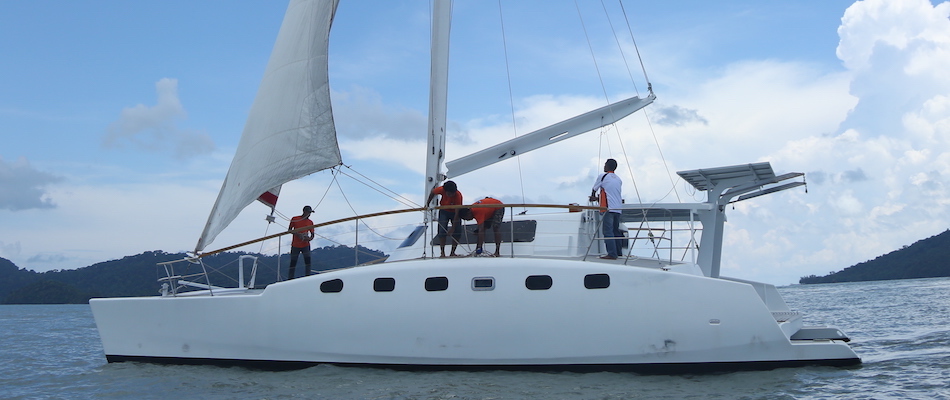 WARISAN DUYUNG: Your Heritage Yacht
This 60 foot yacht was crafted in the traditional Malay style of Terengganu, exuding grandeur and an authentic wooden-feel to all who climb aboard. Her two big mainsails makes her a prominent feature wherever she goes, and her broad brim allows up to 30 guests to comfortably enjoy their Private Langkawi Cruise.
With space for plenty of activity, whether it be games, a party, or simply an open deck to appreciate the majesty of the island, there is plenty to do aboard. Guests will never be hungry with the BBQ pit available for use to serve up fresh food.
The sound of music completes the atmosphere of merry making via the surround sound system, and any guests who wants a Sea Spa Massage courtesy of the Andaman Sea can always make use of the Jacuzzi Net.
Up to 6 guests may extend their Langkawi Private Cruise by staying the night in any of the 3 cabins. For a true feel of the mythos and magic of Langkawi, The Warisan Duyung is the perfect yacht to accompany you.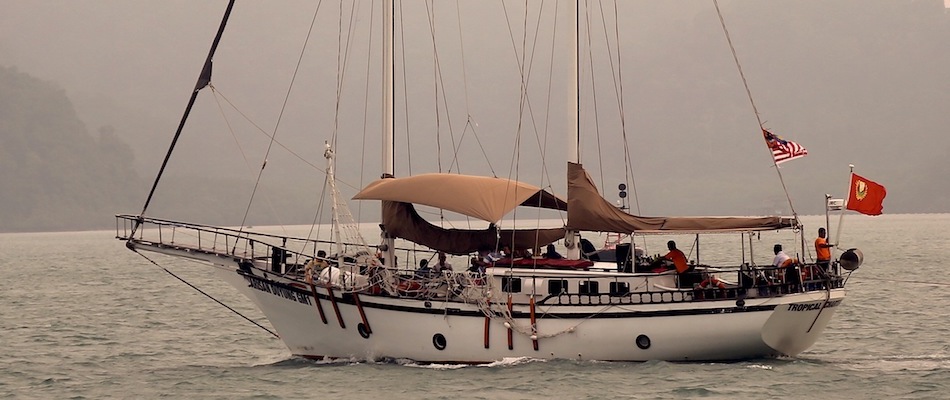 MAIN MAIN: Your Sight-Seeing Yacht
This 72 foot wooden schooner was built in the traditional Malay style, much like her sister yacht, The Warisan Duyung. Replicating the model of the deep sea fishing boats of yesteryear, there is a truly Asian feel to her solid wooden structure.
The Main Main is the perfect yacht for a languid day of sight-seeing, with its open seating and nets for climbing to enjoy the sprawling vistas of Langkawi.
She can host up to 25 guests during your Langkawi Private Cruise and is well equipped. The BBQ pit keeps guest happy and fed, while the Andaman Sea massages away all worries as they lounge on the Jacuzzi Net. Completing the atmosphere is the surround sound music, which can be as soulful or as party-rock as you like.
DABAYADA: Your Day Cruiser
This sleek and modern cabin cruiser runs like a blue-streak upon the water, providing a very stable ride for your Langkawi Private Cruise. Perfect for a day party of 8 or a romantic sunset cruise for two, the Dabayada is the perfect cosy setting.
Her cabins are air-conditioned, and is great for sight-seeing in comfort. If you're looking for the perfect place to spend a day, the Dabayada is the one for you.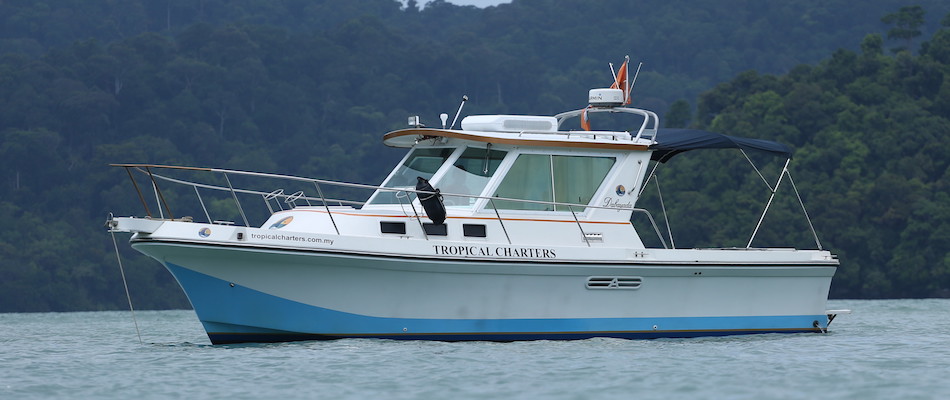 ARYNA
Be Our Guest, We'll Do The Rest
With so many choices, Tropical Charters has got all your Langkawi Private Cruise needs covered. If you have a specific occasion or quest, allow us to plan and set up your perfect getaway. Our private consultants will quickly and discreetly attend to your needs.